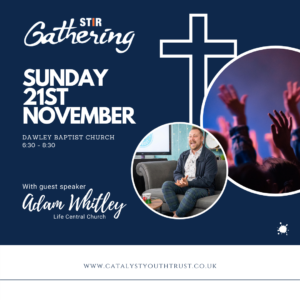 On Sunday 21st November we're taking young people to Stir Gathering in Telford. You may well remember that Stir Gathering used to be located in Bridgnorth; however, over the pandemic, it became clear that there are many young people who could and would attend if the event was in a more central location.
The most important thing for us in Bridgnorth is to make sure that young people can still attend from here, and so we've put together a trip, including a stop at McDonald's.
We have a great group of leaders coming and can take around 15 young people.
Plan for the evening.
17:00 Leave Bridgnorth (Smithfield)
17:30 Mcdonalds (Telford Forge)
18:15 Leave Mcdonalds to drive to Dawley Baptist Church
18:30 Stir Gathering at Dawley Baptist Church
20:00 End of Stir Gathering
20:40 Arrive back to Smithfield
This is a funded trip. The only thing the young people will need is something to spend at Mcdonalds.