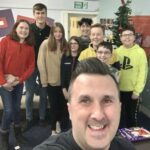 Welcome to the dedicated Stir Group page. Stir meets on Sunday evenings from 6.30pm – 8pm at The Bridge Youth Centre.
The aim of Stir is to create an environment where faith conversations can naturally occur in a safe, fun way. Our Stir group launched in 2016 and many young people have enjoyed the programme over the years.
If you'd like to join this group or would like to know more, please use the contact form below.
Stir group dates for Spring and Summer 2022
16th Jan: Life is this it?
30th Jan: Jesus who is he?
13th Feb: Why did Jesus die?
6th March: How can we have faith?
20th March: Why and how do I pray?
3rd April: Why and how do I read the bible?
8th May: Who is the Holy Spirit and what does he do?
22nd May: How can I be filled with the Holy Spirit?
12th June: How do I make the most of the rest of my life?
26th June: How can I resist evil?
10th July: Does God heal today?
Periodically we also go on trips and to events. One of which is called Stir Gathering which can be found by clicking here.